LORRAINE MONK

LORRAINE MONK, O.C., O. Ont., M.A., LL.D., D.Litt., F.O.C.A., FIAP

1960 – 1980: Executive Producer
Still Photography Division
National Film Board of Canada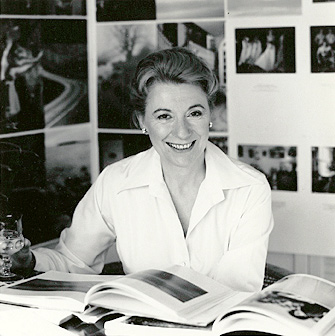 1966: Honoured by Federation Internationale de l'Art Photographic (FIAP), for
"Excellence of Service to Photography" and the ESFIAP Medal.

1967: Produced six major photographic books to celebrate Canada's 100th Birthday.

1) Canada/A Year of the Land
2) Canada du temps qui passe
3) Call Them Canadians
4) Ces Visages qui son un Pays
5) Stones of History: Canada's Houses of Parliament
6) Tésmoin d'un Siècle: Le Palais du Government Canadien

1967: Inaugurated "The Photo Gallery" at 150 Kent Street, Ottawa. The first gallery in Canada
devoted to exhibiting the work of "living" Canadian photographers.

1967 – 1980: Produced over 200 exhibitions Canadian photography and multi-screen slide show presentations that travelled around the world.

1973: Appointed "Member" of the Order of Canada "for service to Canadian photography" and
pioneering "fine printing" in Canada.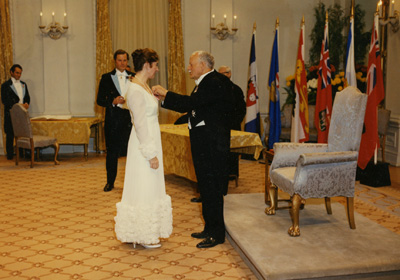 1973: First recipient of the newly inaugurated Gold Medal awarded by the National Association for
Photographic Art (NAPA), for "Distinguished Contribution to Canadian Photography".

1976: Accompanied Prime Minister Pierre Elliot Trudeau to the White House to present the first copy of
Between Friends/Entre Amis - Canada's gift to the U.S.A. on its 200th Birthday
to President Gerald Ford.

1977: Between Friends/Entre Amis won the Gold Medal, at the International Book Fair in Leipzig, Germany, 1977,
"In Honour of Extraordinary Achievement in the Art of Book Creating."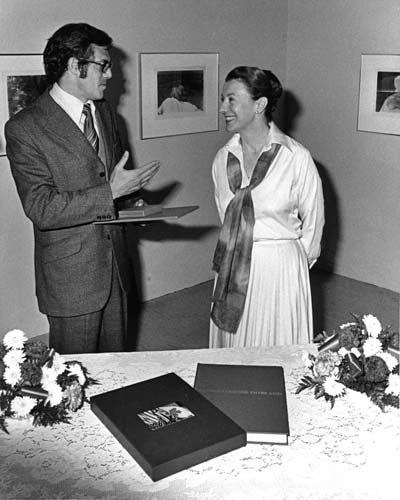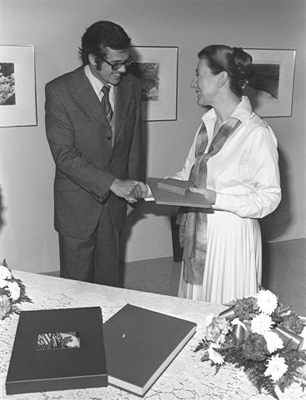 1979: "The International Year of the Child". With an exhibition of photographs organized by Lorraine Monk.
At the Madison Gallery - Toronto

1980: Awarded "Honorary Fellowship" at the Ontario College of Art and Design for distinguished
"Service to the Arts in Canada".

1982: Received "Honorary Doctorate of Letters" from York University. Delivered the
convocation address.

1983: Elevated to "Officer" in the Order of Canada for multi international awards,
won by her books celebrating Canadian photography.

1984: Appointed first "Honorary Member" of the Canadian Photographic Historical Society.
Delivered the keynote address at the International Photographic Symposium, York University.

1985: Received "Honorary Doctorate of Literature" from Carleton University, Ottawa. Delivered the
convocation address.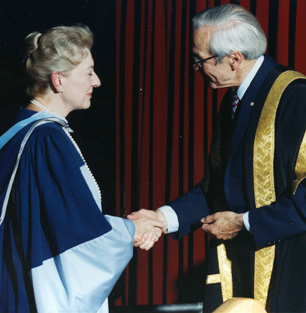 1985 - 1987: Created The Canadian Museum of Photography.
Premiere Exhibition:
Richard Harrington: The Incredible Journeys: Photographs From The Canadian Far North: 1947–1952

1998: Appointed to the Board of the Roloff Beny Foundation. Developed programs to assist Canada's
photographers: Best Photography Book Award; Scholarships; Visiting Lecture Series etc.

1999: Produced and Published:Canada: These Things We Hold Dear An Album of Photographic Memories, to celebrate the contribution made by Canadian photographers to our understanding and
awareness of our country and our national identity. This book won many major international awards.

1999: Millennium Book awarded the "Unisource Trophy" for Excellence.
Entire book put on the Internet by Kodak Canada: www.kodak.ca/go/lmonk

2000: Canada: These Things We Hold Dear won Printing Industries of America's highest
award for printing excellence, the coveted Benjamin Franklin Trophy.

2000: Presented with the "Royal Canadian Academy of Arts" medal for "extraordinary
achievements" in Still Photography as curator, editor and publisher.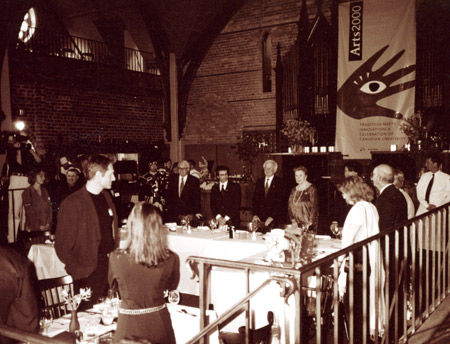 2001: Canada: These Things We Hold Dear recieved The International Association of Printing House
"Excellence Award": for "The Best Printed Book in the World" (3,358 entries were submitted worldwide) and "The Best Book Printed in a New Technology"
2001: The Lorraine Monk Library of Photographic Books established at Loyalist College.

2002: Received the "Queen's Golden Jubilee Medal": the Commemorative Medal for Her Majesty
Queen Elizabeth II's Golden Jubilee. Presented for "significant contribution to Canada".

2004: Donated 502 autographed copies of Canada: These Things We Hold Dear to public schools in the Toronto area
Over the past decade Lorraine Monk has made substantial contributions from her personal collection of photography and photographic books to libraries in Canada and abroad.

*****

2005: Founded Photographers For Peace Foundation
Mandate:To bring the entire world closer together through the peaceful, powerful medium of
photography... the most powerful medium of communication ever invented.
Photography is a silent language. It crosses all borders.

Two major International Exhibitions are in the planning stage and will graphically illustrate the theme: We Are One!

A book... "The Global Village Family Album"

A 3D Holography Exhibition … "History's Heroes"…
celebrating the great pacifists of history…
among them: Albert Einstein
Mahatma Ghandi
Martin Luther King

Dr. Helen Caldicott, the world's leading advocate for Nuclear Disarmament, is Honorary Patron of
Photographers For Peace

*****

2007: Toronto District School Board:
Established the "Lorraine Monk Book Award". Autographed copies of
Canada: These Things We Hold Dear presented to students for
"Outstanding Achievement".

2008: Appointed to the "Order of Ontario":
Lorraine Monk has produced 32 internationally acclaimed photographic books (including the famous:
Between Friends/Entre Amis.) as well as several hundred photographic exhibitions about Canada, prompting
Toronto Author John Robert Colombo to observe: "Lorraine Monk's commitment to photography is surpassed
only by her commitment to Canada".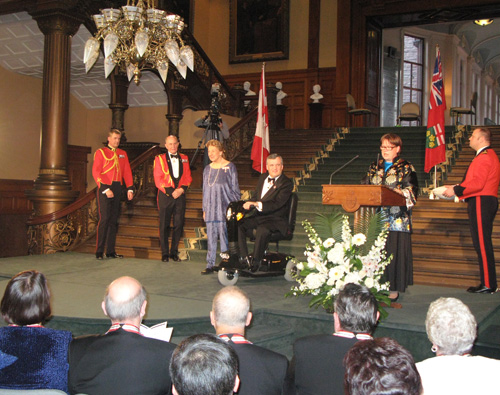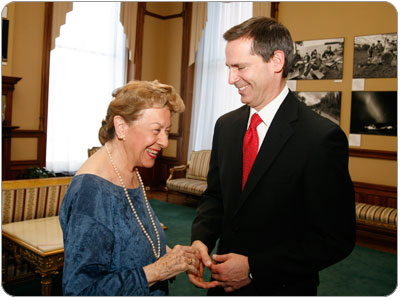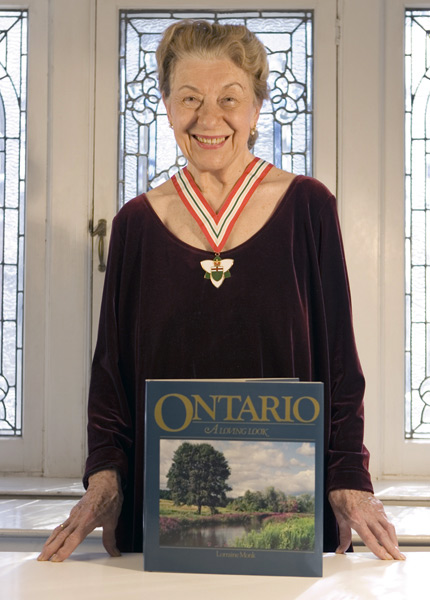 Lorraine Monk fought relentlessly for greater recognition and celebration of Canada's photographers. She was
frequently described in the media as "The Joan of Arc of Photography".

Lorraine Monk's latest project is: Photographers For Peace… a global undertaking, dedicated to bringing the
whole world closer together through the peaceful – powerful - medium of photography - the most powerful
medium of communication ever invented.